Seniors
If we are lucky, every one of us will eventually age and become "chronologically gifted".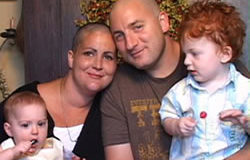 Seriously Ill
For every person facing a serious illness or end of life, LifeChronicles creates video recordings.
How it Works
We have often heard, "It sounds too good to be true!"
Remember Me
Frances Terry Schaefer – Director, Producer Brett Phillips – Director of Photography, Editor For more information, visit www.remembermefilm.org. This 12 minute documentary is the basis for an upcoming feature length film.
Memories to Heal
To help bring healing and connection to our communities, we are creating a unique, historical film called MEMORIES TO HEAL to document the aftermath of the Thomas Fire and the 1/9 Debris Flow.  This project will outlast our lifetimes.  At the same time, we are creating 23 individual films about those whose lives were taken […]
Featured in Good Housekeeping
On any given day of the week, filmmaker Kate Carter, 64, turns her digital camera on a dying stranger, making beautiful documentary-style videos of people whose lives are fading… Read the whole article, from January 2017, on the Good Housekeeping website.